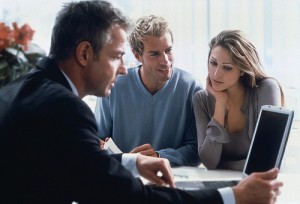 People who are exploring the ins and outs of a finance degree, and specifically looking for how to become a financial advisor, should be aware that most people in advisory positions come to the field from other professions. Individuals who work as bankers, investment brokers or even computer programmers have all switched careers and become financial advisors. The actual work that is performed is part sales, because the advisor must constantly be seeking new clients and new investments. It is also largely customer service and counseling, because of the sensitive nature of personal finances and the emotional situations that can arise when investments stop performing or emergencies eliminate funds.
Educational Choices For People Interested In How To Become A Financial Advisor
A financial advisor can really follow one of two educational routes. The first is to acquire a degree in business. This can be a bachelor in business, financial planning, economics, accounting or business administration.  Some type of business degree is necessary for specific licenses and certifications that can be used to expand the services a financial advisor provides. A second path that some people take is to acquire a four-year degree in almost any field in order to show that a basic college education has been achieved. These individuals can then embark on a path of self-study in order to pass the basic exams that are necessary to operate as a financial advisor. Most of the larger employers will want to see a degree that has at least some relation to business and finance. Choosing an accredited school, such as one from this list of the Top 10 Best Online Masters Degree Programs in Finance, is a good place to start.
Responsibilities of a Financial Advisor
A financial advisor can responsible for guiding the investments of a client and choosing the correct stocks, bonds or other vehicles to gain the maximum return on the money that is invested. An advisor can also help to chart a financial path that can lead to a specific result like buying a house or starting a business. Financial advisors give clients advice about the market and can help to assess different financial contracts or instruments that affect the income and savings of a family.
Becoming a Certified Financial Planner
In addition to learning how to become a financial advisor, one must decide on further licenses and certifications. One decision that needs to be made is whether or not to become a certified financial planner (CFP). This certification is not required by all employers. The exam that is given to become a CFP is 10 hours long and is spread over two days. The certification requires a business degree and at least a few years of job experience. An alternative is to take the test to become a chartered financial analyst (CFA) which has similar requirements and involves an exam that lasts 16 hours over three days. Individuals who will be dealing with investment products will most likely want to become a registered investment advisor (RIA) so that fees can be charged for certain financial services. Finally, it is usually a good idea to get a Series 65 license or Series 6, 7 and 66 licenses. These licenses show that a financial advisor has sufficient knowledge of the laws, regulations, ethics and risk management strategies that are necessary to operate within the industry.
Salaries and Work Requirements of a Financial Advisor
The starting salary for a financial advisor can be within the $30,000 to $50,000 range depending on the employer. Successful financial advisors can make over $100,000 each year and potentially much more depending on the pay structure that has been implemented. Advisors must generally work very long hours in order to meet the needs of clients and to keep abreast of changes in the market. Individuals who have figured out how to become a financial advisor independently might be self-employed and could make much more or much less than the median income of other advisors.
Filed under: How to become a financial advisor, becoming a financial advisor