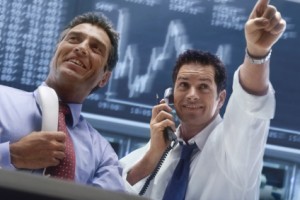 The path to becoming a successful stockbroker starts early in life, typically in high school, so learning early how to become a stock broker will benefit anyone seriously interested in the career. The basic skills of understanding math as well as understanding people provide the critical foundation for a great stockbroker versus one that struggles to win clients.
Becoming A Stockbroker: High School Education
Classes in algebra, calculus and statistics provide exposure and a huge boost to any stockbroker prospect thinking about an investing career in his grade school days. These don't sound very interesting to those who want to have fun. However, critical understanding of math formulas used for probability and projecting outcomes create important skills that are used later on for understanding how stock performance can play out. That said, math and science aren't everything. The other half and probably more important skill is being able to be social. At the end of the day, a stockbroker has to sell his skill and investment to people. Those who know how to talk to folks, generate relationships, and convince people to do things that on their own they wouldn't normally do are the ones who excel later on selling stocks.
College Education For A Stockbroker
A keen understanding on statistical as well as spreadsheet software is a must, so any statistics courses in college are bread-and-butter courses that have to be taken. Additionally, at the college level, a prospect needs to continue expanding his skill in finance, statistics, economics, business and yes, writing. While number-crunchers can produce great statistical regression formulas, if they can't communicate what they've developed it doesn't mean anything to the average consumer investor.
College is also the time when networking pays off the most for a starting career. Both fellow students and well as professors can create connections to brokerage houses as well as investment managers in the industry. These connections can create internship opportunities as well as awareness of what the industry is looking for in new hires fresh out of college.
Finally, college-level students should be reading and absorbing every book about money, the economy, and investment they can get their hands on. The goal is not remember everything. Instead, it's to become familiar with money trends, related language, and historical issues that tend to reappear again and again.
Personal Behavior Required For Stockbrokers
It is critical during high school and college to keep one's nose clean and out of trouble. Just about every stockbroker position will require a background check as well as deep reference check. After all, prospects will be handling other people's money. Nobody wants to hire a former misdemeanor case or worse, a former state convict. Even a drunk-driving charge can severely limit potential job offerings if found on a background check.
First Careers For Stockbrokers
Graduating students will need to sit for the Series 7 exam before being allowed to work as a stockbroker. This test is the filtering system administered by the industry to make sure brokers understand both technical requirements as well as ethical rules for the job. In some cases, the institution that hires a graduate may pay for the test fees. In other cases, the applicant has to foot the bill himself. The difference is dictated by grade performance in school and networking. So who a student knows and how well his grades are can help or hinder career testing later on.
The stockbroker's career is frequently a commission-based job. While some brokerages will provide a first or two-year salary to help hires start out, the majority of positions make their income on the sales they make. How to become a stockbroker who excels in sales is where people skills and being able to sell to people becomes important. So how to become a stockbroker depends on selling stocks and investments. Those who can't handle people usually drum out of the career quickly.
Filed under: how to become a stockbroker